Receive Big Red Dollars When You Refer a Friend!
Enjoy great rewards in our 10% referral program. For example, earn $20 Big Red Dollars when your friend purchases $200 worth of services from Big Red. Start earning Big Red Dollars today!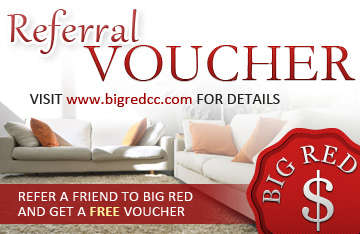 How the referral program works:
Once a sale is confirmed, your 'Big Red Dollar' voucher will be emailed to you within 2 weeks.
Vouchers are transferable. Gift them to your friends or family!
Keep referring to get a FREE carpet/upholstery cleaning from Big Red!